Software
Scraping Zomato has never been so fast or so easy
At Local Scraper we have been scrapers for over 8 years now and have helped thousands of customers get the data they are after. Our new Zomato Scraper is built upon our amazing Local Scraper framework, making everything super fast and super easy to use. You can start gathering data from Zomato listings with just the press of a button. It really is just that easy.
Zomato is building a extensive list of both local and international restaurants and now you can too! We gather 12 fields of data from Zomato. Nearly every business detail listed on the site will be at your command. Below is just a sample of the data you could be gathering. So what are you waiting for? With an instant access download you could be scraping data in minutes!
Program Features
Zomato Scraper is fully loaded with all the features you need to scrape successfully.
Full Proxy and VPN Support
Proxy and VPN support for anonymous scraping allowing you to scrape even more and for longer.
Super Fast Scraping
We grab data directly from the search result page so you are getting 30 results per page instantly to a csv.
Easy to use CSV Exports
We auto save all of your data into easy to use and import csv files. Supported by Excel and most CRM systems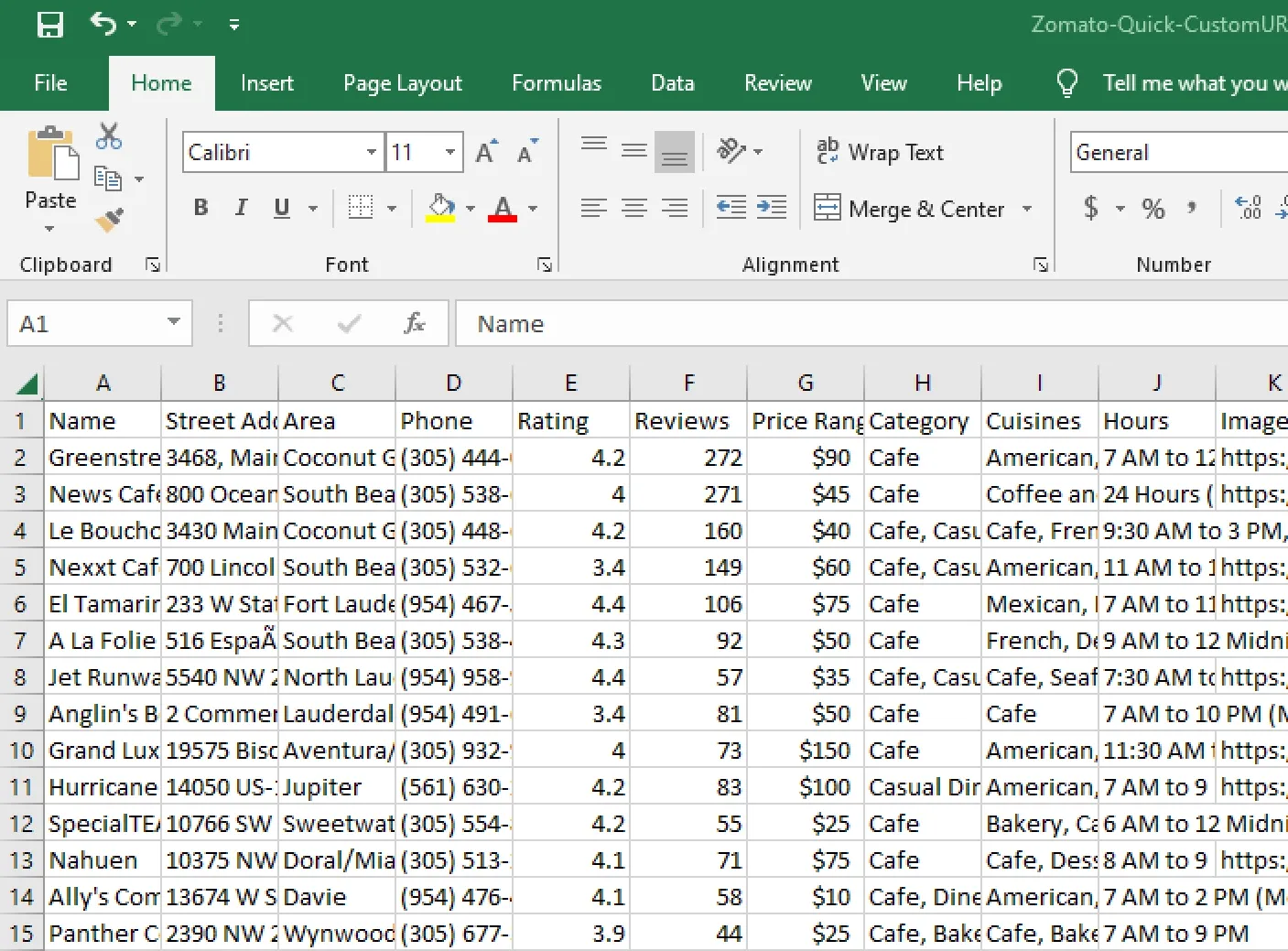 Data
More Data Than Anyone
Zomato Scraper goes above and beyond our compitition. We collect 12 details from each business from the Zomato listing page.
Name
Address
Area
Phone
Rating
Reviews
Price Range
Cuisines
Categories
Hours
Image URL
Listing URL
Testimonials
What Client's Say
After using Local Scraper for a few months I truly can't imagine how we used to do business without it.
Great program, practically a business saver!
Since we started using Local Scraper our business has increased at least 10x fold. It's been an amazing asset to the company.
Buying Local Scraper was one of the best things my company has done, we use it almost daily.
Our latest website could have never been possible if it wasn't for the database we were able to build with Local Scraper.
Order Now
No Hidden Charges. Order Now.
Clients and Counting
Our Zomato Scraper is always kept up to date and we have made it as easy to use as possible. We have tried to kept the pricing as easy as possible as well. The Zomato Scraper is 29.99 and it is billed on a 6-month subscription that breaks down to only $5.00 per month. Just think of that for less than a cup of coffee you could be scraping listings right from Zomato! After your purchase you will be instantly emailed your license details and a link to the readme page to get you started. Its just that easy.
* Zomato Scraper is a desktop software and requires Microsoft Windows to run
** Your purchase is for a Single License of Zomato Scraper. Your Single License allows you to install the program on two computers.
*** Your payment is a 6 month reoccurring subscription. Your subscription insures you always have a 100% working and updated program.
Six Month Pricing
Most Popular
$
29.99
Every 6 Months
Auto-Billed Every Six Months
Only $5.00 Per Month.
Cancel at Any Time
Guaranteed Support and Updates
Install on 2 Computers
No Result Limits
Full Proxy and VPN Support
30 Day Money Back Guarantee