Software
Scraping Business Data from Yellow AU Made Easy
Yellow Pages Australia provide targeted business information for the Oceania region. These sites contain tens of thousands of confirmed business details and contact information. That means confirmed leads for your business or directory site. Now with the power of Yellow Pages Australia scraper you can gather this data with the push of a button. Results are saved to an easy to use csv file for your use.
Based off our successful Local Scraper scraping software Yellow Pages Australia Scraper allows you drill down into precise targeting so you can gather only the information you need. We provide full proxy support and offer multi-threading scraping to gather data faster than ever.
In just a matter of minutes you could be in control of your very own data scraping robot adding the valuable data from Yellow Pages to your database. Read more below to learn about how Local Scraper can get you scraping right away.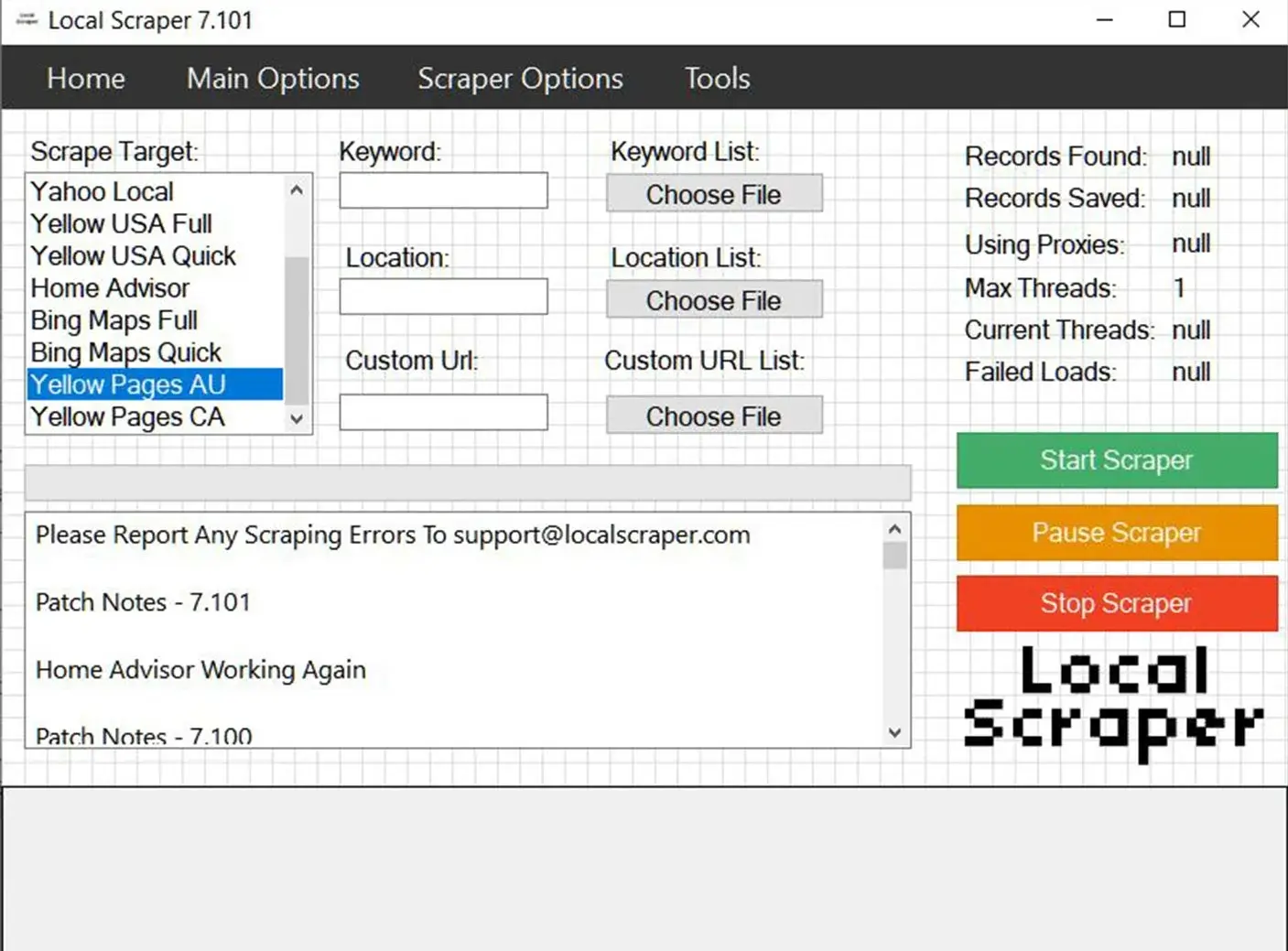 Name
Address
Phone
Website
Rating
Reviews
Region
Verified or Not
Emails
Lat & Long GPS
Listing URL
And More!
Program Features
Local Scraper is fully loaded with all the features you need to scrape successfully.
Full Proxy and VPN Support
Proxy and VPN support for anonymous scraping allowing you to scrape even more and for longer.
Super Fast Multithreading
Scrape more data even faster with multi-connection support. Use up to 15 threads for super fast scraping of data.
Program Automation
Use the lists feature to automate your scraping. Scrape data while at lunch or at home asleep. The bot keeps working even when you are not.
Email Scraping Capability
Use our optional built in Email Hunter system to find even more emails than before. Email Hunter checks the home, about, and contact us pages of the business website for a public email.
Complete Video Tutorials
New to scraping and data mining? Don't worry we have you covered. Get up and running in minutes with our video tutorials.
Easy to use CSV Exports
We auto save all of your data into easy to use and import csv files. Supported by Excel and most CRM systems.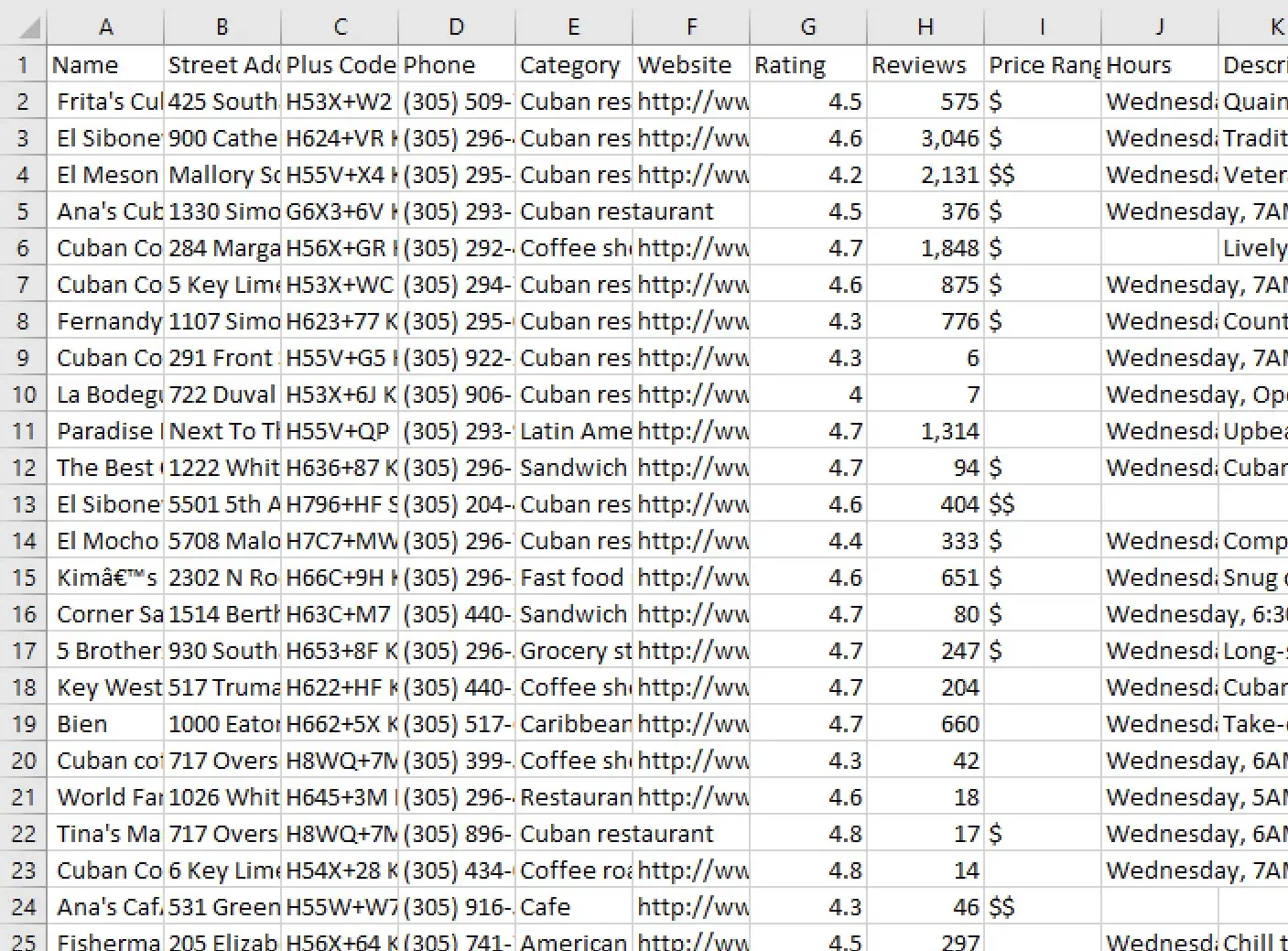 Data
More Data Than Anyone
Local Scraper goes above and beyond our competition. We dont just scrape simple details like name, address, and phone. We take scraping to the extreme. You of course get basic contact details but we also scrape image urls, owner names, hours, pricing, promotions, user reviews, and more than I could possible list here. Just as an example our Yellow Pages Australia Scraper collects 33 columns of business information and our Google Maps Scraper collects 42 columns. With our optional email hunter system turned on we also will check the business website for a public email and social media accounts given you even more data to work with. Local Scraper's robust data is perfect for Sale Lead Generation or Database Building.
Testimonials
What Client's Say
After using Local Scraper for a few months I truly can't imagine how we used to do business without it.
Great program, practically a business saver!
Since we started using Local Scraper our business has increased at least 10x fold. It's been an amazing asset to the company.
Buying Local Scraper was one of the best things my company has done, we use it almost daily.
Our latest website could have never been possible if it wasn't for the database we were able to build with Local Scraper.
Pricing Table
No Hidden Charges.
Choose Your Best Plan.
Clients and Counting
We know that not every job is the same that's why we provide two easy pricing options for customers. You can now tailor your subscription to better fit the size and scale of your scraping project. If you have a small scraping job or want to try out the program before committing long term then the one-month subscription is right for you. If you are interested in gathering more data consider the one year package and take advantage of the savings. Both options give you the same great scraper and support so there is no wrong choice!
* Local Scraper is a desktop software and requires Microsoft Windows to run
One Month Pricing
Most Popular
Local Scraper 7 in 1
Great for Short Term Projects
Auto-Billed Once Per Month
Cancel at Any Time
7 Supported Sites, 11 Scrapers
Guaranteed Support and Updates
Install on 2 Computers
MacOS and Windows Supported
No Result Limits
Full Proxy and VPN Support
30 Day Money Back Guarantee
Latest Update on November 8th 2023
Six Month Pricing
Local Scraper 7 in 1
Save $24 off Monthly Pricing
Auto-Billed Every Six Months
Cancel at Any Time
7 Supported Sites, 11 Scrapers
Guaranteed Support and Updates
Install on 2 Computers
MacOS and Windows Supported
No Result Limits
Full Proxy and VPN Support
30 Day Money Back Guarantee
Latest Update on November 8th 2023
Request a Free Trial
Start your risk-free trial by filling out the form below. Download instructions will be sent to you by E-Mail.
Frequently Asked Questions
Local Scraper is a Subscription?
Local Scraper requires constant updates to continue to always have a 100% working solution. The program has near weekly updates and is always a work in progress. To offer the best product to our customers we need to stay on top of site changes and updates. So unlike other products your subscription guarantees your scrapers are always up to date and 100% working. Customers can UnSubscribe at any time from your PayPal account.
Can I run Local Scraper on my Mac?
How are results saved/exported?
Am I limited to X results?
What updates and support can I expect to receive?
What are the System Requirements?