"Scraping Data from Google Maps has Never Been Easier."
Google Maps is the definitive source for data on business listings. No one has more data than Google Maps does. But they are not going to share that data it with the rest of us. That is why you need a Google Maps Scraper. With a scraper such as Local Scraper you can simply collect the data that you want from Google without using any APIs. Use their data to populate your own databases of business listings, send out mass mailing campaigns, or just collect it for lead generation.
Local Scraper is a fully automated scraping solution. It offers the ability to scrape data simply by entering a keyword and location and pressing a single button. The scraper will then open your web browser, go to google maps, enter in your search and then being to scrape information. It will automatically click on each listing and follow though search pages. In the bottom of the program you will be able to watch as business data is automatically populated into a table. This same information has been saved automatically to a CSV file as it continues to scrape. With this solution no data will be lost while scraping.
We have been in the scraping business for over 5 years now and were one of the first scrapers on the market to scrape data from Google Maps. Scraping data is our business, using that data is your business. What to know more? Click the button on the left to learn more about scraping data from Google Maps.
Here is some data you could be scraping from Google Maps.
Name
Address
Description
Zagat Text
Rating
Reviews
Website
Business Closed or Not
Verified Listing or Not
Category
Business CID
Image URL
Website Email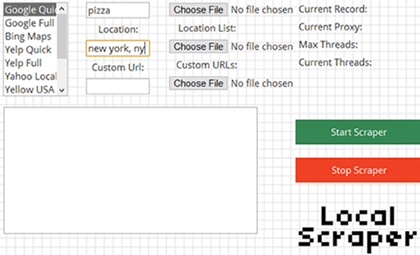 The Google Maps Scraper is part of the Local Scraper Package!
With Local Scraper you get access to 9 website scrappers across 7 of the worlds most popular directoy websites. That is Google Maps, Yelp, YellowPages, Yahoo Local, Bing Maps and More. You get all of this for as little as 7.99 per month. All of these scrapers are included in one easy to use program. We include 2 google maps scrapers, one 'quick' one that gets results super fast but with limited details, and one 'full' scraper that will visit each business listings page and scrape all detials that google offers. Both are super easy to use and with the press of a single button will being to return valuable data right to your computer saved in a super easy to use CSV file. Your single purchase also allows you to use the program on 2 computers at the same time so you could be paying as little as $4 per computer per month, an amazing deal to be sure.